An outline of data aggregation security in heterogeneous wireless sensor networks.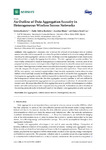 Date
2016
Author
BOUBICHE, SABRINA
BOUBICHE, DJALLEL EDDINE
BILAMI, AZZEDINE
TORAL CRUZ, HOMERO
Abstract
"Data aggregation processes aim to reduce the amount of exchanged data in wireless sensor networks and consequently minimize the packet overhead and optimize energy efficiency. Securing the data aggregation process is a real challenge since the aggregation nodes must access the relayed data to apply the aggregation functions. The data aggregation security problem hasbe en widely addressed in classical homogeneous wireless sensor networks, however, most of the proposed security protocols cannot guarantee a high level of security since the sensor node resources are limited. Heterogeneous wireless sensor networks have recently emerged as a new wireless sensor network category which expands the sensor nodes' resources and capabilities. These new kinds of WSNs have opened new research opportunities where security represents a most attractive area. Indeed, robust and high security level algorithms can be used to secure the data aggregation at the heterogeneous aggregation nodes which is impossible in classical homogeneous WSNs. Contrary to the homogeneous sensor networks, the data aggregation security problem is still not sufficiently covered and the proposed data aggregation security protocols are numberless. To address this recent research area, this paper describes the data aggregation security problem in heterogeneous wireless sensor networks and surveys a few proposed security protocols. A classification and evaluation of the existing protocols is also introduced based on the adopted data aggregation security approach."