The effects of video games on english vocabulary learning.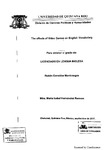 Fecha
2017
Autor
González Montenegro, Rubén
Resumen
This was a pre-experimental study that aimed to determine the benefits that video games can provide as educational tools in second language learning to enhance vocabulary instruction and improve students' linguistic competencies.
Este fue un estudio de pre-experimental que tuvo como objetivo determinar los beneficios que los videojuegos pueden proporcionar como herramientas educativas en segundo aprendizaje de idiomas para mejorar la enseñanza de vocabulario y mejorar las competencias lingüísticas de los estudiantes.