Translation as a pedagogical tool: perceptions of the students of the english language major at the university of Quintana Roo.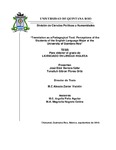 Date
2010
Author
BARRERA SAFAR, JOSE EMIR
FLORES ORTIZ, TONATIUH GIBRAN
Abstract
Teaching a foreign language is not an easy task. It implies a lot of skills to satisfy the necessities of the student and that is why a teacher needs to be well prepared in order to transmit knowledge. In order to make this happen, language teachers need to explore new ways, methods and techniques that could successfully improve their teaching tools. We want to emphasize that learning a new language opens many doors. The opportunities of a person who speaks more than one language are greater than a person who only speaks one. The competitive aspects of this modern world encourage us to demand more from ourselves, and this means that a person has to learn more, be more prepared and be able to communicate with people from other countries, and this will be achieved through the learning of new languages. In other words, we state that it is almost mandatory in these days to learn foreign languages in order to achieve success.