EFL student's attitudes and preferences toward corrective feedback at University of Quintana Roo.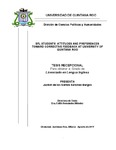 Date
2011
Author
SANCHEZ BURGOS, JAZMIN DE LOS SANTOS
Abstract
Over the past years, corrective feedback has been an issue that many teachers have worried about. Each year, more and more teachers pay more attention to this topic as it has become more popular in EFL/ESL teaching and learning, It is also known that approaches have changed throughout the years and that the communicative approach has been avoiding the treatment of errors in the language classroom, nevertheless, researchers and teachers have begun to reevaluate the role that corrective feedback plays in language teaching and learning, and most of the results and arguments seem to favor corrective feedback in EFL/ESL teaching. English language teachers have to deal with the responsibility of correcting students' errors. This is sometimes complicated since deciding when to correct students´ errors, or what techniques to use is not an easy task.