Sustainability Assessment of the Residential Land Use in Seven Boroughs of the Island of Montreal, Canada.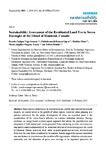 Date
2015
Author
VEGA AZAMAR, RICARDO ENRIQUE
ROMERO LOPEZ, RABINDRANARTH
MATHIAS, GLAUS
OROPEZA GARCIA, NORMA ANGELICA
ROBERT, HAUSLER
Abstract
"High resource utilization in the residential sector, and the associated environmental impacts, are central issues in the growth of urban regions. Land-use urban planning is a primary instrument for the proper development of cities; an important point is the consideration of the urban form's influence on resource utilization intensity".