Phylogenetic evidence from freshwater crayfishes that cave adaptation is not an evolutionary dead-end.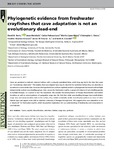 Date
2017
Author
Stern, David
BREINHOLT, JESSE
PEDRAZA LARA, CARLOS SALVADOR
LOPEZ MEJIA, MARILU
Owen, Christopher
HEATHER, BRACKEN GRISSOM
JAMES, FETZNER
Crandall Keith
Abstract
"Caves are perceived as isolated, extreme habitats with a uniquely specialized biota, which long ago led to the idea that caves are "evolutionary dead-ends." This implies that cave-adapted taxa may be doomed for extinction before they can diversify or transition to a more stable state. However, this hypothesis has not been explicitly tested in a phylogenetic framework with multiple independently evolved cave-dwelling groups".