Optimal Sizing of a Photovoltaic-Hydrogen Power System for HALE Aircraft by means of Particle Swarm Optimization.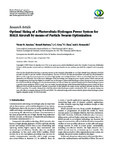 Date
2015
Author
SANCHEZ, VICTOR
Barbosa, Romeli
HERNANDEZ RODRIGUEZ, JOSE
CHAN, FREDDY
CRUZ, JULIO
Abstract
"Over the last decade there has been a growing interest in the research of feasibility to use high altitude long endurance (HALE) aircrafts in order to provide mobile communications. The use of HALEs for telecommunication networks has the potential to deliver a wide range of communication services (fromhigh-quality voice to high-definition videos, aswell as high-data-ratewireless channels) cost effectively".