Experimental Assessment of Derating Guidelines Applied to Power Electronics Converters.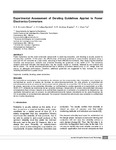 Date
2013
Author
DE LEON ALDACO, SUSANA ESTEFANY
CALLEJA GJUMLICH, JORGE HUGO
JIMENEZ GRAJALES, HUMBERTO RAUL
CHAN PUC, FREDDY IGNACIO
Abstract
"Power transistors are the most vulnerable components in switching converters, and derating is usually applied to increase their reliability. In this paper, the effectiveness of derating guidelines is experimentally assessed using a push-pull DC-DC converter as a case study, operating in three different environments. After measuring the electrical variables and temperature, reliability was predicted following the guidelines in MIL HDBK 217F. The sensitivity analysis performed indicates that temperature has the largest impact on reliability, followed by environment and device quality. The results obtained demonstrate that a derating procedure based solely on DC ratings does not ensure an adequate performance. Therefore, additional guidelines are suggested to help increase the overall reliability obtained from a power circuit."