The Antillean manatee (Trichechus manatus manatus) back in town?Presence of the species at the "Área de Protección de Flora y Fauna YumBalam", Quintana Roo, Mexico.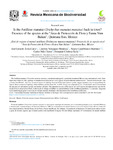 Date
2017
Author
AVILA CANTO, JOSE GERARDO
VELAZQUEZ MENDOZA, CAROLINA
CASTELBLANCO MARTINEZ, DELMA NATALY
NIÑO TORRES, CARLOS ALBERTO
CORDOVA TAPIA, FERNANDO
Abstract
"The Antillean manatee (Trichechus manatus manatus), considered endangered, is protected at national (Mexico) and international levels. SinceHurricane Gilbert in 1988, sightings of manatees have been rare at Conil Lagoon, located within the natural reserve "Área de Protección de Floray Fauna Yum Balam". However, increased reports of sightings from local fishermen and tour guides suggest manatees may be repopulating thelagoon. Here we report 15 sightings of the Antillean manatee from 2011 to 2016. Group sizes ranged from 1 to 15 individuals and we documentedthe presence of reproductive groups and mother-calf pairs. The apparent recovery of the species at Conil Lagoon and adjacent areas may be theresult of local conservation efforts, or the result of changes in habitat use and distribution of the Caribbean population. A systematic, long-termlocal monitoring program is necessary to estimate manatee abundance and characterize their distribution in this area".