Effects of Personal Factor on Professors´ Productivity: A Case Study.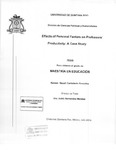 Date
2015
Author
CASTAÑEDA GONZALEZ, KAREEN NAYELI
Abstract
The purpose of this study was to find out how some personal factors affect research productivity. Participants of this study were five faculty members who work in the Department of Language and Education at the University of Quintana Roo. They were selected in a purposely way. Qualitative research methodology was adopted and a case study was used to come up with the results of this study. Data were collected through semi-structured interviews and analyzed with the software Atlas Ti. The professors.