English-spanish translation of the article "Meditation, social chage and Undergraduate Education" with a detailed analysis of the strategies used by the translator according to Vinay and Daberlnet's categorization (1958) in "Comparative stylistics of french and english: A methodology for translation".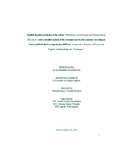 Date
2016-01-24
Author
Castillo Benítez, Yolanda Eunice
Abstract
The translate article might be useful to any person working in the educational area and who would like to provide their students with new techniques to learn and practice meditation on campus beyond introductory workshops. This monograph is a translation of the article "Meditation, social change and Undergraduate Education". Also, exposes a detailed analysis about the strategies of translation acording to Vinay and Darbelnet's categorization.
El artículo traducido puede ser útil para cualquier persona que trabaje en el área educativa y que quiera proporcionar a sus alumnos nuevas técnicas para aprender y practicar la meditación en el campus más allá de los talleres introductorios. Esta monografía es una traducción del artículo "Meditación, cambio social y educación de pregrado". Además, expone un análisis detallado sobre las estrategias de traducción según la categorización de Vinay y Darbelnet.