Corruption and its effects on Belize from 2014-2018.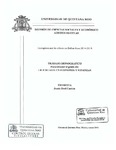 Date
2019
Author
Cantu, Joesie Dori
Abstract
People have debated for years and have been affected by corruption since it is a growing issue. Many papers talk about corruption and some even state that corruption is good for a country, while others believe it is the main cause of our recent crisis. If we keep believing these individuals, we will start finding it normal, and this is seriously affecting our life and especially the entire nation. Corruption has existed for decades all over the world it is a serious problem imposing political, economic, and social cost to societies around the world. In the past corruption was not so obvious as today, now we can see so much corruption going on in the beautiful country of Belize and is affecting all its regions like Orange Walk district.
La gente ha debatido durante años y se ha visto afectada por la corrupción, ya que es un problema creciente. Muchos periódicos hablan de corrupción y algunos incluso afirman que la corrupción es buena para un país, mientras que otros creen que es la causa principal de nuestra reciente crisis. Si seguimos creyendo en estos individuos, comenzaremos a encontrarlo normal, y esto está afectando seriamente nuestra vida y especialmente a toda la nación. La corrupción ha existido durante décadas en todo el mundo, es un problema grave que impone costos políticos, económicos y sociales a las sociedades de todo el mundo. En el pasado, la corrupción no era tan obvia como hoy, ahora podemos ver tanta corrupción en el hermoso país de Belice y está afectando a todas sus regiones, como el distrito de Orange Walk.