Modeling of Non-WSSUS Double-Rayleigh Fading Channels for Vehicular Communications.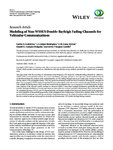 Date
2017
Author
GUTIERREZ ALFONZO, CARLOS
CAMPOS DELGADO, DANIEL U.
VAZQUEZ CASTILLO, JAVIER
Abstract
"Terrestrial vehicle-to-vehicle (V2V) communication systems are emerging as an enabling technology for a variety of new wireless applications and services, such as information relaying for mobile cellular networks [1] and peer-to-peer data transmission for vehicular communications [2]. Some of the most important applications of these systems target the prevention of vehicular accidents and the optimization of traffic flow. Such applications have caught the attention of the automotive industry and different government bodies around the world, who have become major promoters of the V2V communications technology. One of the main challenges in the design of V2V communication systems is to develop a robust air interface that supports delay sensitive applications under the constraints of a rapidly changing propagation environment and a dynamic network topology".