English- Spanish translation of chapters II, III, IV, VI fron the book " Myths and traditions of the arikara indians.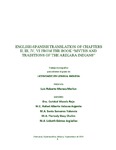 Date
2021
Author
Marzoa Merlan, Luis Roberto
Abstract
Communication has always been one of the most important elements in our lives. Its purpose is that different groups of people can exchange information, ideas and knowledge for diverse purposes. Sometimes, this purpose cannot be achieved easily as it entails different languages. Whenever this occurs, translators are needed because they play an important role in the world, allowing the communication between people who speak different languages. Translators convey a message from one language to another, taking into consideration cultural, contextual and linguistic differences. Translation is an operation performed on languages: a process of substituting a text in one language for a text in another (Catford, 1965)". When a translator operates, he has the responsibility of understanding the message, the language, culture and target population he is building the translation for. The translation of four tales from the book "Myths and Traditions of the Arikara Indians" is an example of how the translator has to consider many factors in order to make his proposal understandable to the target reader. This text is complex because first, it is a literary text that was originally translated from the Arikara language to English; second, it involves several cultural features that are not necessarily present in the target language, so it requires a deep knowledge of the Arikara culture in order to make the translation suitable for the Mexican context. Finally, it is necessary to keep the same fantastic tone. These tales are part of the oral tradition of the Arikara, which means that sometimes it was necessary to learn how to 'tell' stories maintaining the spirit, the rhythm and the plot all the time in order to provide the reader with the same experience these stories were meant to portray when they were first told.